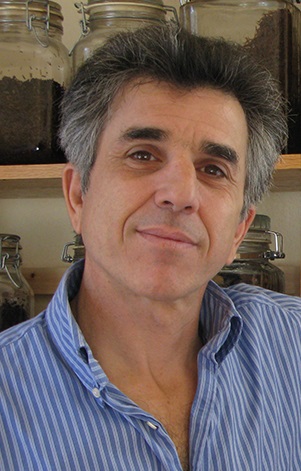 Founder and Principal Herbalist
A clinician since 1989, Harry began a self-driven study of plant medicine around the age of 18, which has led to substantial academic training across the disciplines of natural healing.  As his studies and experience deepened, he began to question standard practice approaches to these disorders. As good as standard practice medicine is, he felt the outcomes could be greatly improved by embracing a wider field of information through the synergy of Western and Eastern medical knowledge. Western physiology and herbal medicine combined became the foundation of his practice, along with the use of contemporary testing technology. He currently focuses on assisting people with serious chronic disorders. His approach to creating individualized protocols takes in the well-being of the whole person and the most healing benefit for the most reasonable cost. A lot of study goes into building a good protocol and a lot depends on the commitment of the patient to follow through with it.
Read more about Harry's background and training below, or connect with us to schedule a consultation either in-office or online.
Harry's Background and Training
Harry Chrissakis studied at the Institute of Chinese Herbology, under instructors Reece Smith and Ken Morris. This included a detailed study of 160 Chinese herbs and the energetic principles of Chinese medicine, founded on the ancient system of the 8 Principles. In addition, Harry studied plant pharmacology and human physiology under Adam Seller,a close associate and disciple of the late great Herbalist Michael Moore, at the Pacific School of Herbal Medicine. This focused on 160 western herbs and included training in wildcrafting and medicine making.
Harry Chrissakis studied the Channel System and Hand-healing of the late great Shiatsu Master Shizuto Masanage under the instruction and apprenticeship of Dr. Masanaga's primary student, Edward Bailey. The insights gained through this 3 year study were invaluable in his development as a Healer.  
An intensive 300-hour study at the Upledger Institute and a 2-year study with the brilliant osteopath, Dr. Mark Rosen, gave Harry an unprecedented opportunity for a detailed study of the central nervous system. He applies this knowledge to develop effective protocols for his clients.
Over the last decade, Harry Chrissakis has been inspired by thought leaders such as Paul Bergner, John Boik, Dr. John Lee, Ken Profrock, Michael Moore, and Rudolf Weis. The influence of Dr. Jessie Stouffe and his study under Donnie Yance have been key to his development for assisting people with chronic diseases.
Harry Chrissakis teaches classes in herbal medicine, women's health, and lectures regularly on a variety of contemporary health issues focusing on Cancer, Heart Disease, Diabetes and Weight Disorders. To learn more about our lecture series and other educational opportunities, connect with us by phone or email.